GUIDELINE NT11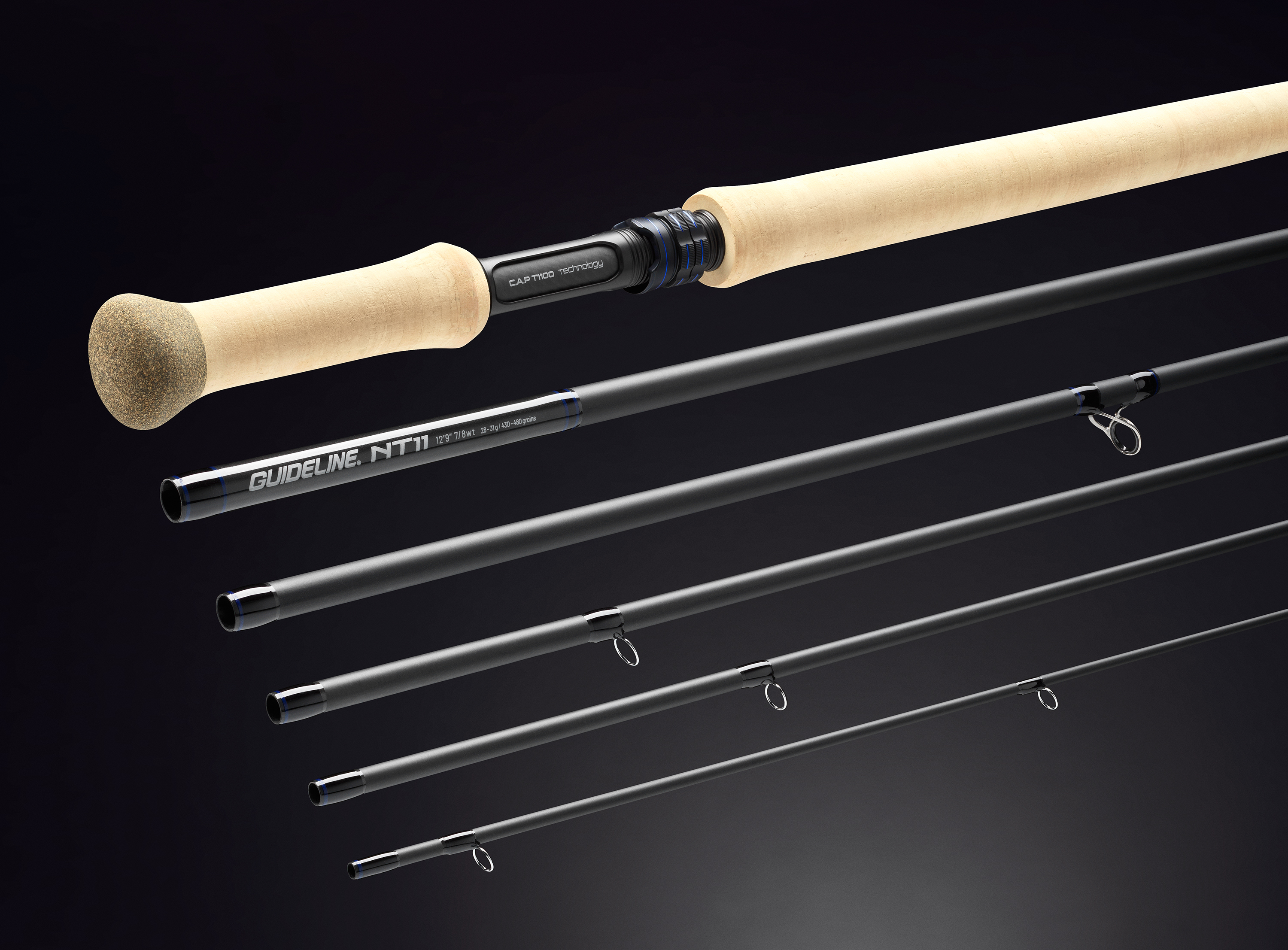 Det nya flagskeppet från Guideline. Flera år av utveckling och nu är det äntligen här.
VI hade äran av att fiska med dessa nyheter i Orkla under 3 dagar i Augusti. Vi fiskade med olika längder och linuppsättningar och får erkänna att dessa spön passar riktigt bra till det laxfiske som de flesta av oss bedriver i Europa.
Lätta spön som så många andra är idag. NT11 har en otrligt fin och tydlkig återhämtning som gör att kastupplevelsen förhöjs enormt mycket.
Vi tycker att 13,9' och 14,9 är spön som hänger med på även det tyngsta fisket. Ja och såklart den långa 15.9'.
12.9 7/8 och 8/9 är perfekta för mindra älvar och lågvattensfisket.
Kort sagt är NT11 delikat, lätta och enkla att kasta med.. Vi rekommenderar er att testa dessa spön
Perfekt för den som reser att spöna är 6 delade och med 25 års garanti!
Detta skriver Guideline själva
NT11 fly rods are the result of taking advantage of the very latest and most sophisticated SOA (State of Art) graphite materials used in the aerospace industry today.
When applied to and used in flyrods, some remarkable benefits are achieved. The most evident effect being an amazing recovery power and crispness in the blanks, created by combining the incredible armoring and strength increasing effects of T1100G graphite with layers of the highest modulus graphite we've ever used in any flyrods to date. For you as an angler, the above properties are built into a series of rods that have the lowest blank weight, yet the highest break strain of any other rod in our line up and probably also on the entire flyrod market.
You'll find these rods to be easy to operate with their full flex medium/fast action and tips that are rigid but still sensitive enough to make them lively and fun to cast without having to focus on perfect casting stroke timing all the time. They load deeper and generate increasing amounts of power and line speed when you ask for it. While still maintaining impressive lifting power for sinking lines, this deeper, yet fast type of action will work for a wide range of casts, lines and casting styles. After many years of building premium, lightweight and strong 6-piece flyrods and knowing that no sacrifices are made in performance, strength, weight or balance, we find it only natural that this new range of rods also is multi-piece and transportable in your luggage when travelling. We have worked hard and deliberately to keep the value of these rods maximized without sacrificing quality in workmanship or components.
THE ROD MODELS
12'9 #7/8 28-31 gr/430-480 grains
The lightest and shortest rod in the double hand range. It's a pure joy to fish during endless hours on small to medium sized rivers. Often described as rods for summer fishing, this rod shows much more versatility than that. It manages all kinds of lines and easily dredges for early season sea trout that hug bottom in the deeper pools when needed. We have used both standard 3D+/4D rigs and our 3D+/4D Compact lines during the development. 4D bodies in 20 and 22gr weight matched with 12'- or 15' Tips in 7 and 9 gr weights match beautiful with the rod.
12'9 #8/9 32-35 gr/490-540 grains
In recent years, this has been one of the most popular two hand models. Very versatile and with power to manage big fish and also larger flies that are a bit bulkier than the 7/8wt rod. This rod can also be used with both the shorter 3D+/4D+ Compact system or the longer standard 3D+/4D lines, it's just a preference thing what you prefer. If you fish in tight situations with steep and high river banks behind you, the Compact system will be your best choice. A 34grams (25+9gr) 4D Compact Multi Tip #8/9 kit works perfect on this rod.
13'9 #8/9 32-35 gr/490-540 grains
An unexpected benefit of the new materials and construction of the NT11 rods is the extraordinary stability of the blank and its ability to eliminate rebound quickly. This became very evident when developing these longer models in each line weight. Low swing weight matched with instant stop of the blank after recovery make this rod kind of special. Like the 12'9 version, it can also be used with both the shorter 3D+/4D+ Compact system or the longer standard 3D+/4D lines, but the added length of this rod matches well with a slightly longer head. A 25gr 4D+ Compact Body matched with a standard 4D 15'/9gr tip is a great pro tip here.
13'9 #9/10 37-41 gr/570-635 grains
Possibly the most versatile of all the rods, this model is a bestseller across our ranges of Salmon rods for a reason. The NT11 version manages just about all the conditions and challenges you throw at it and it does it in style. Heavy sinking lines, tough winds, bulky flies, big fish or tight high banks and deep wading are all part of the everyday work load for this rod. It's a fraction faster and more powerful than most of the other rods in this Series, but it felt so good like this that we left it like this. It has a great tolerance for lines, but some of our favorites are standard 4D Bodies in 29gr + 15'/11gr or even 18'/12gr Tips (The later also works great on a 29gr 4D Compact Body). You can also load the rod with a 32gr Body and 9gr tips.
14'9 #9/10 37-41 gr/570-635 grains
Another slightly longer rod that has benefited big time from the unique construction and the properties in the T1100-material. Light and well-balanced, this rod will blow you away with its direct tracking and vibration dampening properties. Casting this rod during long days of fishing is pure joy. We recommend that you use the standard 4D Bodies with either 15'/11gr or 18'/12gr tips. If you want to fish the deeper water column, the 4D S3/5 body matched with 4D S46 or 57 tip will get you down in the zone and cast like a missile.
14'9 #10/11 43-47 gr/660-720 grains
The classic big river, big fish, larger flies rod that handles all densities of lines equally well. It has a great connection between tip and butt section, balanced with a powerful medium/fast flex that generates great line speed from the powerful recovery of the bent blank. Works great with 3D+ Heads in #10/11 (44gr) or a 4D set up with a 32gr body and 18'/12gr tip. Alternatively, a 35gr body with a 15'/11gr tip will give even more load in the rod and work just as fine. It's all just a matter of your individual preference.
15'9 #10/11 45-50 gr/690-770 grains - PLEASE NOTE, 4 PIECE MODEL!
The Ultimate for powering out long casts in challenging places, including deep wading and steep river banks. Incredibly light in the hand, it requires only average body- arm- and rod movement to load and deliver brutally good distances. Iconic rod length and action type that has been in our line-up since the legendary LeCie rods back in 2005. Now, this NT11 rod brings in the technology of the future, elevating it to new performance highs. An absolute killer with 4D 35gr body and an 18'/12gr tip. For the Chromer fishing in high, cold water in the early season, the 4D S35 Body with a S46 or S57 Tip will deliver the goods you're after.